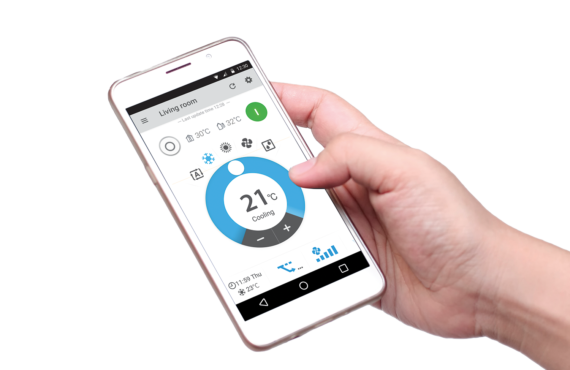 Air Conditioning Systems
From 2025 new built homes will no longer be allowed to install gas boilers and are encouraging the use of low CO2 emission heating systems. We at TJ Bathrooms believe that global climate change, needs local solutions. The installation of an air conditioning system will help you to reduce energy consumption, lower carbon emissions and have lower running costs. Fortunately, we have qualified and experienced Air Conditioning Systems installers who can meet this need.
Design
Air conditioning systems can regulate the temperature of your space using low power consumption and a quiet albeit powerful performance. The systems have aesthetic, compact designs in a variety of colour options, to blend in or stand out. These wi-fi or remote-controlled systems can suit those with limited wall space, a great option for those wanting to stay cool or warm. The systems traditionally have been known for the ability to cool an environment however, the systems we install at TJ Bathrooms can both heat and cool a space. Our systems are controllable by an app installed on your mobile phone that allows you to set the temperature of your space remotely.
EXPERT INSTALLATION AND AFTERCARE
Installation comes with a one-year guarantee and the system will have a registration card to provide a guarantee between three and seven years. CALL NOW ON 01932 866471 TO ARRANGE A HOME VISIT.
Product Benefits
Working from home doesn't mean uncomfortable temperatures or unhealthy spaces. Our air conditioning systems make the space healthier by improving air quality for asthma and hay fever sufferers. They reduce humidity and moisture levels, much needed in the spring and summer months as well as filtering microscopic particles from the air.
Installation
If you are considering installing air conditioning systems in your home, workspace or studio book an appointment for a visit with our air conditioning installer. During the visit we will survey the space and measure the area. We will also discuss with you the type of air conditioning systems that are available from compact wall mounted units to Art Cool Gallery units in which you can display your chosen art pieces.