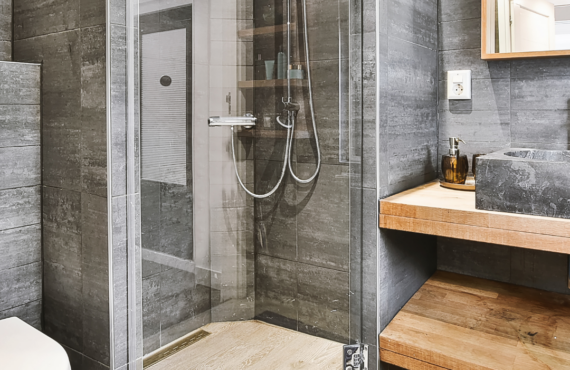 Shower Installation
A shower is a great way to start the day, however before installing a new shower, shower room or wet room your existing plumbing needs to be considered. We have the experience and knowledge to be able to eliminate issues that may arise, to leave you with a high pressure, good water flow and stylish shower.
Visit
Booking a visit will allow us to survey the space where you would like to install a new shower. We have created walk-In shower rooms from a variety of spaces to include an empty landing, walk-in cupboard and garage. During the survey we will be able to identify where your existing plumbing is to ensure that your new shower room will have well planned plumbing without exposed pipework.
EXPERT INSTALLATION AND AFTERCARE
We want our clients to love their new shower and the installation comes fully guaranteed. Manufacturers also have their own guarantee times giving total peace of mind.
CALL NOW ON 01932 866471 TO ARRANGE A HOME VISIT.
Design
The design of your shower area requires expert knowledge. Did you know that areas containing water supply should have isolation valves for maintenance? The flow rate of your current system needs to be considered as does the shower head size and the pipework in the floor.
Some showers will require the level of the floor or shower tray to be a little higher to accommodate the flow of the wastewater, this is so that water does not sit in the tray. Other showers may not have the correct pressure, this can be resolved with a pump or a low-pressure shower head.
Wet rooms offer great space saving in smaller properties with an ease of accessibility for use and cleaning. You may opt for the warmth under foot of a shower tray rather than a porcelain tile – unless you choose to install under floor heating.
With our design service you will also have the option to visualise your shower room prior to the commencement of the installation.
Product Benefits
We believe that high quality products with great guarantees allow for peace of mind and create a space you'll love to enjoy.
With a vast choice of showers available, from electric, mixer, thermostatic, digital or water saving, you can be assured that our qualified team will guide you to select the best quality product to meet your needs.
Installation
The installation of a new or part refurbishment to a shower room requires a range of skills. Our in-house experienced team have the skills needed to ensure that your shower room is completed to the highest standard, creating the space of your dreams.