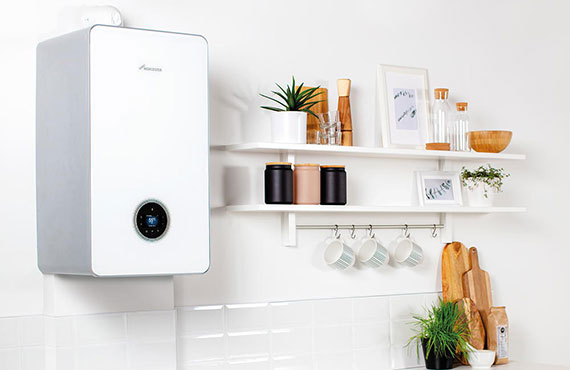 Heating System Installation
Modern boilers and heating systems come with a whole host of options which can be used to create a central heating and hot water system best suited to your home, personal usage requirements and budget. With so many options it can be difficult to know where to start. We can help and advice on the best solution for you.
Visit
Book a home visit to discuss your needs and to ascertain whether your system needs replacing or an upgrade. We will be able to advise how many radiators you require, the number of floors and size of the space that needs heating and the best solution for your space.
EXPERT INSTALLATION AND AFTERCARE
Installation comes fully guaranteed and the system itself will have a registration card, providing a manufacturer warranty.. CALL NOW ON 01932 866471 TO ARRANGE A HOME VISIT.
Design
There are a wide range of radiator choices available from horizontal to vertical, from steel, cast iron or aluminium. To provide a more aesthetically pleasing look you may choose from a variety of colours too.
Along with advising on style, we can also help you to identify which radiators produce more heat and which are energy efficient. We also consider the amount of hot water your family requires during the day and whether you will require a hot water tank or cylinder to be installed.
Product Benefits
Our experienced team can support you to select the most appropriate product for your requirements. All systems vary in their energy consumption, affordability and environmental friendliness. We know these things are important to you and will address any questions you have regarding our installation.
There are three types of boiler available for your home and we will support you to select the system which is appropriate for your needs.
Combi boilers are used in many homes. They heat the water directly from the cold water main supply rather than using a water tank. This allows for unlimited hot water as well as running the heating system.
System boilers have a hot water cylinder within the unit, therefore not requiring a separate hot tank. Whilst combi boilers are smaller, these boilers can be useful if your family uses a lot of hot water.
Traditional boilers have a separate hot water tank which is often located in an airing cupboard. With this system there is a cold water tank in the loft. This system may be considered if you have low mains water pressure.
Installation
We will guide you through the installation process allowing you to plan ahead. Using skilled and qualified heating engineers we ensure the work is carried out smoothly, with the best products available to you.